February 3, 2022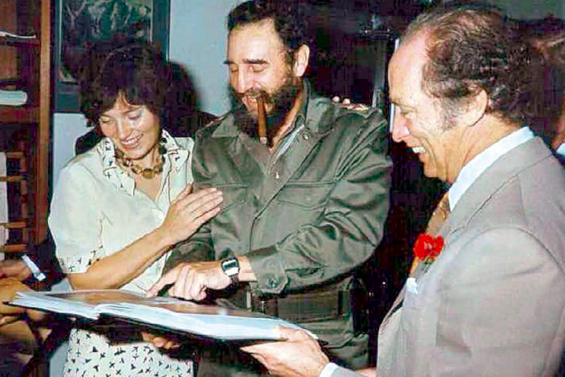 (
above, Margaret Turdeau was a slut)
Canadians can take comfort in knowing their Prime Minister's father executed 100,000 people.
Karen Leibowitcz: "In the age of sloppy journalism, few authors are sloppier than those who claim they 'debunked' the story that Fidel Castro is Justin Trudeau's biological father. They recite the Canadian governments' official travel dates to Cuba and painfully avoid the Trudeaus' extensive personal trip to the Caribbean trip in Spring 1971. It is a fact the Trudeaus were in the Caribbean in Spring 1971. They adored Castro It is a fact the Trudeaus were swingers. This is what you need to know."
Justin's eulogy on Castro's 2016 death – "Fidel Castro was a larger than life leader who served his people for almost half a century. A legendary revolutionary and orator, Mr. Castro made significant improvements to the education and healthcare of his island nation."The average monthly wage in Cuba is $46 USD Own nothing but they're happy.
Cubans describe their country as "an open-air prison."
Related-– When Fidel Impregnated Margaret

——— The oldest son of Fidel Castro admitted in his suicide note that Justin Trudeau was his half brother, the product of an affair between his father and Justin's mother. He complained that Fidel would often chide him for not being as successful or hard working as his half-brother Justin.———Canada's CIA Destroyed Communist Pierre Elliot Turdeau's Security File Pierre Elliot Turdeau was Prime Minister from 1968-1978 and again from 1980-1984. He was much-hated. Enamoured by the name, Canadians elected his son, a substitute drama teacher who was fired for having sex with a student.
———Klaws Swab admits that Trudeau and his Cabinet are WEF sock puppets
Of Course, Fidel Castro is Justin Trudeau's Father-Nobody Has Debunked Anythingby Karen Leibowitcz
(abridged by henrymakow.com)
First, Margaret Trudeau, Pierre Trudeau, and Fidel Castro were all notoriously sexually promiscuous. Margaret Trudeau was a partier who unquestionably had sex with men while married to Pierre. Nobody knows if Pierre objected.
They met when he was 48 and she was 18. They got married when he was 53 and she was 23. Their marriage surprised Canada because Pierre had been a lifelong playboy with no wife or children. He would be turning 60 when she was barely out of her 20's. She publicly states today she suffered from bipolar disorder and self-control issues. She smuggled drugs in the Prime Minister's official government luggage. She sneaked away from official functions to get high.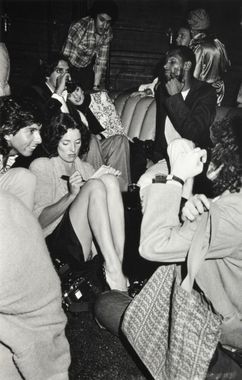 She partied pantieless at Studio 54. (left) She became embroiled in a scandal for having sex with Ted Kennedy (gross). According to Keith Richards of the Rolling Stones, Pierre broke up with her while she was having an affair with Ronnie Wood. The list goes on.
Pierre Trudeau slept around too. According to a 2009 Globe and Mail article by Margaret Wente, actress Margot Kidder (Superman, Superman II), classical guitarist Liona Boyd, and actress Kim Cattrall all claimed to have slept with him at some time. Pierre Trudeau biographer John English states the "evidence is overwhelming" that he slept with Barbara Streisand. The record is not immediately clear how much of that happened before the couple was separated, but before she moved out of the house he was entertaining three women downstairs at a time:
He often invited two girlfriends to the same event. Allan Gotlieb, his ambassador to Washington, complained about one dinner he hosted for Mr. Trudeau because he had three girlfriends there…he carried on downstairs even though Margaret [while separated] was still in residence upstairs.
FIDEL CASTRO'S PROMISCUITY
Fidel Castro put them both to shame. His sexual appetite was so legendary this article cannot efficiently capture it. Suffice it to say, he endeavored to have sex with two new women every day and sent aides to fetch them. He fathered 11 acknowledged children and rumors are he has multiple times that many bastards.
Second, the Trudeaus adored Castro. They, their aides and friends all said so. According to John English's "Just Watch Me: The Life of Pierre Elliot Trudeau 1968-2000" they were charmed by Castro and made several trips to embargo-era Cuba just to see him. In 2000, Castro made a rare appearance out of Cuba to attend Pierre's funeral in Canada. On his visit, Margaret welcomed the leader at his hotel on behalf of the Trudeaus. They demonstrated a striking level of familiarity before even getting off the tarmac of their 1976 trip. They all took photographs together. The Trudeaus introduced Castro to their children. And when Castro died, Justin Trudeau was the only leader of the Western World to give him an overwhelmingly positive eulogy without addressing his misdeeds.
Third, the timing is uncanny. This is the part about which 'debunkers' intentionally mislead readers. Justin Trudeau was born on Christmas day, 1971. In order for his father to be Fidel Castro, his mother would have to be somewhere close to Cuba in March and April 1971.
She was.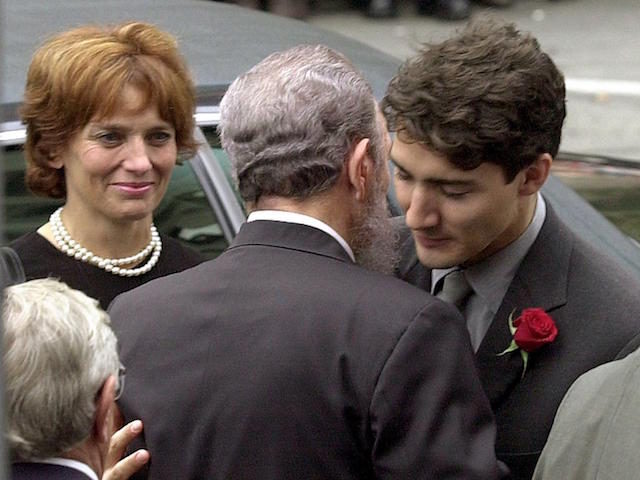 (A mother's face does not lie. Turdeau meets Fidel Castro at PET's funeral in 2000)
In April 1971, the Trudeaus took a long "second honeymoon" all around the Caribbean. According to Wikipedia, they visited one island they declined to disclose. It is the only island they did not disclose. From Wikipedia:
Footnote 19 of the same Wikipedia article cites to a April 13, 1971 article from The Ottawa Journal. The article states that the Trudeaus were visiting an unidentified island in the Caribbean and wanted the press to give them privacy:
To be clear: they disclosed all the other locations they visited but asked the press for privacy when they went to the "unidentified" island. Come on.
Justin Trudeau was born 8 1/2 months later. In 1976, Pierre eagerly became the first NATO leader to travel to Cuba. He brought his wife. Before even leaving the tarmac, both Trudeaus were showing an unusual amount of familiarity with Fidel considering he was a national leader they just allegedly met. Within hours of their first official meeting, Margaret was photographed intimately touching and holding Fidel Castro with both arms. The Trudeaus announced they had become besties with the dictator and sang his praises during the height of his human rights violations.
Due to his age and lack of previous children, rumors began to spread that Pierre was infertile and that Castro and others were the biological fathers of his children. Perhaps that was unfair at the time. But then Justin Trudeau improbably grew up to look like this:
And this:
And this:
Not like this: