WHO Renews Push for Global Pandemic Treaty, as World Bank Creates $1 Billion Fund for Vaccine Passports

The WHO director-general may already declare a public health emergency in any country, without the consent of that country's government. Dr. Mercola is concerned that the WHO would get the power to implement digital identities/vaccine passports, mandatory vaccinations, travel restrictions, standardized medical care and more. A US Department of Homeland Security contractor described vaccine certificates/ passports as driving "the whole field of digital ID in the future," adding they are "not just about COVID [but] about something even bigger" and that "once adopted for COVID [they] will be rapidly used for everything else."
Germany announces color-coded vaccine passport system similar to Communist China's
Those who aren't 'freshly vaccinated' will be subject to restrictions.
https://www.lifesitenews.com/news/germany-announces-color-coded-vaccine-passport-system-similar-to-communist-chinas/
_________________________________________________________________
The New World Order has been planning the current genocide and enslavement for decades.
Dr Bill Deagle wasn't a psychic. He was highly educated. He studied the technology being developed. He read globalist white papers; and took them at their word regarding the plans they were making for all of us. Here he is discussing "What they want to do to us with vaccines" in 1995:
https://drtrozzi.org/2022/08/15/dr-bill-deagle-saw-this-coming-in-1995/
https://rumble.com/vyfmv1-old-footage-from-1995-of-dr.-bill-deagle-what-they-want-to-do-to-you-with-v.html
Jim Stone –
 "1995 video of Bill Deagle (not Deagel) saying exactly what is going to happen with vaccines in the future, with accuracy.
In this 1 minute 30 second video, he efficiently states exactly how doctors are going to be forced to comply with corrupted medical orders, AND exactly what the Pfizer shot will do.  I never heard of this guy, but he's BANG ON. It is very surprising to see someone nail the current situation with such accuracy. "
___________________________________________________________
A new Omicron-specific booster jab will be used as part of Britain's autumn Covid vaccine rollout, health chiefs confirmed today.
Some 26million older and vulnerable Britons are in line to potentially receive the new jab from next month to shore up their immunity ahead of a dire winter for the NHS.
The announcement came hours after the UK became the first country in the world to approve the new Moderna bivalent jab.
It is a half and half vaccine, made from the genetic material of the original Wuhan Covid strain and Omicron.
This differs from the current generation of jabs that are based solely on the first strain and are less effective against newer variants.
Trial results showed the new vaccine boosted antibody levels against Omicron eightfold. This should mean people who are vulnerable are even less likely to get seriously ill or die from the already-mild variant.
UK regulators said the jab was another 'tool in the armoury' against the 'continually-evolving' virus.
The Joint Committee on Vaccination and Immunisation (JCVI) tonight confirmed the new vaccine would be included in the autumn rollout.
However, the panel said other boosters will also be available for use and urged Britons to take-up any vaccine offered as they all still granted good protection.
Health bosses are bracing for one of the harshest winters on record for the NHS, with a triple-whammy of Covid, flu and the cost of living crisis expected to cause a sharp rise in excess admissions.
_______________________________________________
Pfizer CEO Albert Bourla, Who Claimed Vax Was '100% Effective in Preventing Covid,' Reveals He's Sick With Covid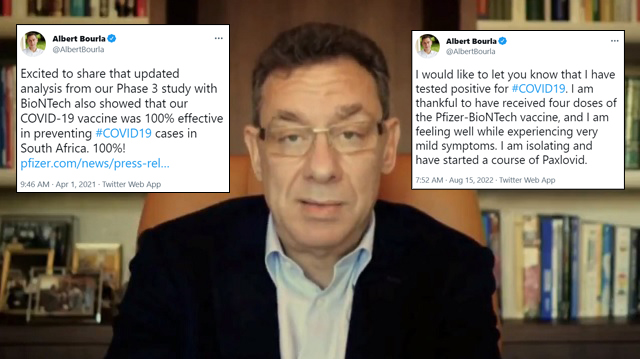 Quadruple-vaccinated Pfizer CEO Albert Bourla, who claimed back in April 2021 that his company's mRNA covid vaccine "was 100% effective in preventing covid," announced Monday that he was sick with covid.
Quadruple-vaccinated Defense Secretary Lloyd Austin, who led the charge to ban the unvaccinated from the US military and cut off pay and benefits to over 62,000 unvaccinated Guard and Reserve soldiers last month, revealed Monday that he's sick with covid for the second time.
________________________________________________________
Minneapolis Teachers Union Contract Demands White Teachers Be Fired First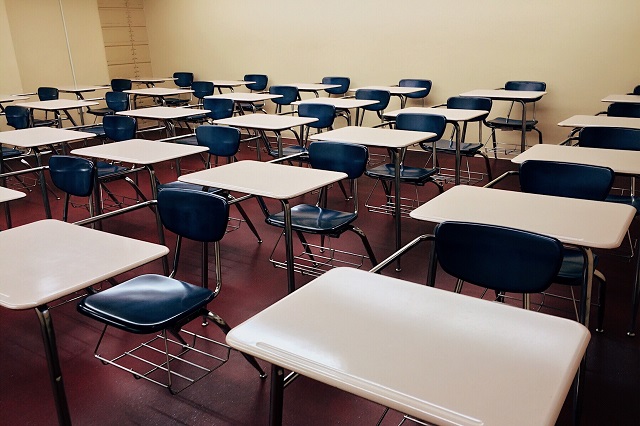 A new Minneapolis teachers union contract demands that white teachers be laid off first in order to "remedy the continuing effects of past discrimination."
From Alpha News, "Minneapolis teachers union contract calls for layoffs of white teachers first":
A Minneapolis teachers union contract stipulates that white teachers will be laid off or reassigned before "educators of color" in the event Minneapolis Public Schools (MPS) needs to reduce staff.

After the Minneapolis Federation of Teachers (MFT) and MPS struck a deal on March 25 to end a 14-day teacher strike, the two sides drew up and ratified a new collective bargaining agreement complete with various proposals.

One of the proposals dealt with "educators of color protections." The agreement states that if a non-white teacher is subject to excess, MPS must excess a white teacher with the "next least" seniority.
This section of the contract states that non-white people can be protected from layoffs because of their skin color.
________________________________________________
Why do globalists have a deep rooted obsession with Artificial Intelligence (AI)? What is it about the fervent quest for an autonomous digitized brain that sends them into fits of ecstasy? Is it all about what AI can do for them and their agenda, or, is there also a darker "occult" element to the concept that is so appealing?
The World Economic Forum, an organization dedicated to the globalist "Great Reset" agenda, the Fourth Industrial Revolution and the "Shared Economy," dedicates a large portion of every annual meeting in Davos, Switzerland to discussion on AI and the expansion of its influence over daily life.
Most of the public discussions on AI revolve around positive narratives; we are meant to be convinced on the many great advancements that AI technology will provide. Some of the "advantages" include transhumanist health modifications, computer implants in the body or brain, and even nanobots which may one day be advanced enough to change our very cells. In other words, in order to benefit from AI we must become less human and more machine.
Other supposed benefits require a vast array of new systems (some of them are being built now) that would allow algorithms to monitor every facet of our lives. Globalists often refer to these systems as the "internet of things" – Every appliance you own, the car you drive, every computer, every cell phone, every surveillance camera, every stop light, everything would be centralized into a single AI network within a city, and each city would be connected in a great spider's web to a national AI database.
The Internet of Things is regularly mentioned in conjunction with climate change governance and carbon restrictions. The purpose is crystal clear – Governments and corporate elites want the ability to monitor every watt of energy you use everyday. This kind of full spectrum information makes it easier to dictate our decisions and our access to goods and services. They would have total control of anyone living within these "Smart Cities." Your entire life, every second, would be watched and scrutinized